Bethesda Meeting House at 9400 Rockville Pike
"The Church that Named Bethesda" is an 1850 Greek Revival building, constructed on the site of an 1820 structure that was the first Presbyterian church in Montgomery County.  It is listed in the National Register of Historic Places.
The Bethesda Meeting House was constructed in 1850 as a Presbyterian church to serve the growing population of Bethesda. First known as the Bethesda Presbyterian Church, it is the oldest church in the county built as a Presbyterian church. Constructed in the Greek Revival style, the church was built on the foundation of the original 1820 church, which was destroyed by fire in 1850.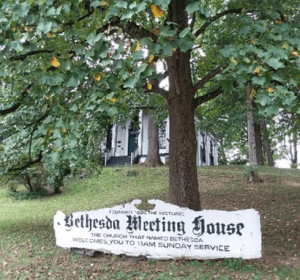 As its sign states, Bethesda Meeting House is "THE CHURCH THAT NAMED BETHESDA." The church was sold in 1925 and belonged to several congregations until Temple Hill Baptist Church purchased it in 1950, still conducting services today in the church and parsonage.
"The church has a front gable structure has a projecting pedimented portico (dating from the early 1900s) with wide frieze supported by square columns. Three walls of the main block have a wide frieze with pilasters alternating with windows and set in pairs at each corner. Gothic revival windows with lancet arches are lit by red, blue, and gold panes of glass. 
On the interior, a slave gallery is a reminder of pre-emancipation practices when the church was built. Original pews were replaced with Gothic Revival ones from the First Baptist Church of Washington. A bell suspended from the portico ceiling is said to have belonged to Paul Revere."(1)
"The Presbyterian congregation, which currently occupies a building in downtown Bethesda, retains ownership of the cemetery and has an original pew from the church. A parsonage was built on site in 1851. Judging by its Queen Anne style, the multi-gabled parsonage, adorned with brackets, shingled accent, and wrap-around porch, appears to date largely from the 1800s. The name Bethesda, meaning House of Mercy, is taken from the biblical story of Jesus healing a lame man at a Jerusalem water pool."(1)
by Wendy Kaufman
Sources          
Cavicchi, Clare Lise/M-NCPPC (2001). Places from the Past: The Tradition of Gardez Bien in Montgomery County, Maryland. Silver Spring, MD:  M-NCPPC.
[This needs more sources and a couple of additional pictures]